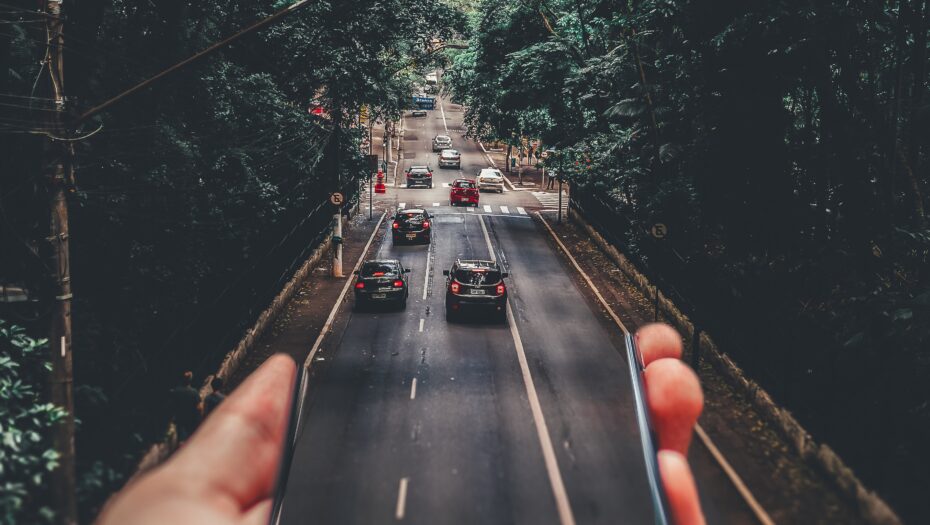 October 3, 2022
Building a system to develop c-store management to drive culture, live the brand and create growth requires discipline, process and consistency. Establishing a culture where staff consistently deliver what you promise your customers provides value that generates customer loyalty. With consistent results, the compensation and job satisfaction are generated in the store that keep the best staff engaged. Retaining staff happens more easily when the environment is positive and the compensation is good. With retention in place, it is easier to train managers from promising staff which further aids staff retention due to career growth opportunities. Even better, growth is facilitated when managers are ready to take on new stores.
The Components of a C-Store Management System
Every c-store has a method to run its operations. They have to acquire a location, building, utilities, inventory, staff, suppliers, finance and management to keep it operating. The ability to deliver the convenient experience that brings customers back, produces profits avoids excessive effort is a combination of these components into set of processes that are effective, efficient, clear, understood and utilized consistently. Having the ability to apply the same service across multiple locations while maintaining the same quality allows a chain to replicate their services across their locations. Such a systemized delivery of services takes an investment of time and management and of course money, but yields an ROI in terms of great value to the community, staff and owners.
A c-store management systems includes the software applications for the management of the business:
| System Area | System Components | Control |
| --- | --- | --- |
| Payments | POS, Payroll, AP, AR, Scan Data, Self-Checkout | CFO/Controller |
| Financial | Back Office, Accounting, Banking | CFO, Price Book & Store Manager |
| Inventory | Vendor Ordering, EDI, Inventory Check-in, Retail Analytics, Tank Management | Operations & Store Manager |
| Store Management | Scorecards, Compliance, Loss, Daily Hot Lists, Scheduling, Inspections, Retail Analytics, Camera Monitoring, Online orders, In-store Orders | Operations & Store Manager |
| Facility Management | Maintenance, EV Charging, Signage, Security, HVAC, Cooler, Alerts, Lighting | Maintenance & Store Manager |
| Staff Development | LMS, HR, Certifications, Profiles, Backgrounds, Professional Training | HR & Store Manager |
| Customer Experience | Loyalty, Mobile Apps, Staff, Promotions, Retail Analytics, Pump Video | Marketing & Store Manager |
Basic Management Is Not Enough
An automated or partially-automated c-store operations management system foundation is found in most convenience stores. It is very common to have solid POS, payment processing, accounting and inventory at even new stores. These systems are widely available and provide choices to allow for small investments to solve important issues. These initial systems are critical and more importantly, tend to be focused on back office staff. Either the ownership or specialized staff that do not have retail responsibilities are the primary users. As such, the users are highly motivated and/or have the time to focus on the special training and usage that builds expertise.
System Evolution to a Customer Focus
As the system is expanded to address more of the retail operations, customer interactions and remote facilities, the number of systems that are involved and the number of different tasks that the users are assigned grows quickly. Store management, staff development and customer experience components are utilized by retail staff that also work with ten or more other components. Additionally, these staff have numerous daily tasks making it harder to find dedicated time to master the technology and processes.
It is important to address the learning curve, the time available to use components, the need to train to store managers and the requirement to simplify work to remove low value tasks to make time for the more important work. As the systems expand into staff development, customer service, loyalty and the marketing effort for branding and customer experience, the ability to increase sales and profits grows. To make time for store managers to drive the culture and long term value of their stores, the system needs to eliminate work, make the work easier and/or allow other staff to get it done. Systems are designed to make high value workers more productive and thus increase operating revenue and profits.
C-Store Management System Complexity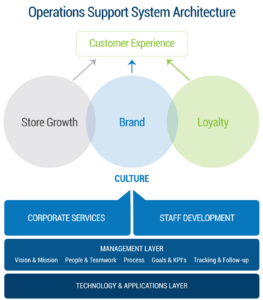 The c-store manager is involved in nearly every part of the c-store management system. In addition they perform store operations and are primarily responsible to ensure the store team fulfills the culture, brand and overall customer experience. They are critical to the system effectiveness.
In order to operate well, these managers must have on-going skill development, productivity aids to ensure their time is protected and the support to guide their awareness of issues. Advanced customer-focused systems (e.g., loyalty, mobile apps, digital marketing) expand the roles and skill required within the store to ensure the customer experience and the chain brand promise is fulfilled.
C-Store Management Systems Complexity Increases
As new system components are added, store managers must have time and information to manage and address of the various aspects of the service. This increased skill and complexity is addressed with staff development and better tools to save time and assist the manager in the oversight, follow-up and delivery responsibilities. It is important to assess not only the systems, but also the store skill sets and the ability to utilize the systems as desired. With the increase in the number of system components, it is critical to train managers and find ways to help them to simplify their daily job.
Companies that do not have a solid system in place tend to work harder at lower value tasks. These jobs can limit the staff satisfaction and increase turnover. Adding more work in terms of hiring and onboarding staff can make an operation very tedious and unproductive. In the extreme, it can end the viability of a store. It is not uncommon as chains grow to sell unproductive sites.
Making Time to Develop New Skills
A system that produces results in terms of financial outcomes, customer perception, and capacity growth yields great value. Using system designed for accountability allows the staff and the management to know their job, get feedback to keep growing, and provide an environment for employee and customer retention. Strong operations, avoid spending too much time in crisis mode. They generate profits that allow for investments to further expand the success. With specialized analytics, store managers are able to receive focused assignments specific to their stores. Scorecards, control/compliance analysis, and outside coaching keep store managers focused. They spend their time on the areas that will yield the best results. With increased store manager oversight, a store can not only grow its sales and profits, but also make time available for training and customer-focused work. Success breeds success. Good work eliminates bad work and makes time available to learn.
As the system increases automation and integration there is the shift towards customer and company value – culture, brand, loyalty and experience. These customer-focused activities require even more skill reinforcement and hands-on time. Even with training and great systems, however, the system cannot make the brand or the culture alone.  What the system can do is to make the brand, culture and resulting experience consistent, simpler to provide and more easily replicated to other locations.
Evaluating System Maturity
C-store systems evolve. Evaluating your current system maturity helps to prioritize and organize the work needed to improve your c-store management system. The article 'Four Levels of C-Store Maturity', compares service levels to assess where systems improvements can be made:
| Focus Areas | Less Mature | More Mature |
| --- | --- | --- |
| Customer Growth | Location | Promotions and Loyalty |
| Customer Retention | Gas price | Service and Attraction |
| Competitive Differentiation | Price-based | Value and convenience |
| Management | Hands off | Accountability to goals |
| Decision Criteria | Cost focus | Return-driven investments |
As the system grows, there is the ability to focus more effort and resources to the high value areas of customer growth and retention, competitive advantage and management development. Leadership that has the time and skill to deliver the mission and vision will build strong teams. This leadership focus improves the financial results. These companies consistently increase sales with upselling, add more traffic, increase profits by losing less from shrink. With consistent leadership and teamwork, the customer experience thrives allowing the customer perception to see the brand consistently as they shop. The best systems make the basic services easier to deliver so that the customer experiences what the brand promises. The experience and brand are controlled by the store staff and lead by the manager. The system is there to support these goals and simplify the work.
The Reason We Work Here
The culture, brand and customer experience result directly from a company's ability to deliver it's promise. The idea of what a company wants to be is considered its vision. What it does is the mission. Making the vision and mission simple and clear enables a system to be established and improved to drive work towards the resulting goals. Having a purpose defined makes it easier to hire the right staff.
The key is to find people that desire and have ability to be part of a team that serves the purpose. Of course, compensation, schedules and location matter, but the desire to do the work makes any job more interesting and produces better teams. Before you can 'live the brand' and create growth a store needs to be built, supplied and staffed. Getting the right stuff and the right staff stack the deck in favor of good results.
Building the Team – Hiring and Onboarding
Having a team that works well together and consistently delivers the desired results begins at the hiring process. Teams that 'live the culture' and achieve the results are comprised of people that want for themselves the things they can accomplish in their jobs. When hiring, the goal is to find those that want to work in a manner that fits with the culture of the company. That is, their personal values and goals match the purpose of the company and align with others on the team. With such alignment, personal motivation matches with expectations. There is less resistance to training and work assignments.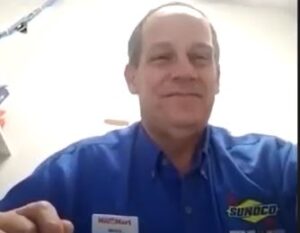 As result of the on-going management development, there will be a source of new leaders developed organically. Such growth helps the company to grow as management depth is a factor for store growth. Additionally, when staff have a career path, they stay engaged knowing the company is investing in them.
No Limits to Staff Development
There is no limit to a person's growth. Bruce, a McIntosh Energy store manager, offers his experience for c-store employment. He reminds each of his hires to "come in with the right attitude – you are going to be successful. Strive to be the best and look for the job that you desire." As company growth occurs, it is important to build a system to encourage advancement. The system and the staff need to keep improving. Improvement comes from new technology, better processes, clear communication, great marketing and  c-store staff development.
Create the Culture
Store managers are critical to the culture in the store.  Each store takes on the personality of the store manager. In order to provide the resources for growth, you must build a system to develop c-store managers. The resources to add new stores include not only the finances but also the management capacity. A growth system must train managers at a rate that not only addresses c-store attrition but also the need for new managers as store count increases.
In addition to the system components listed in the tables above a typical store manager must be able to address a full range of management duties:
Hiring
On boarding
Compliance Oversight (e.g., age verification, food preparation)
Loss Control (inventory, theft, carelessness, labor usage)
Time Management
Competitive Analysis
Customer Service
Inventory Management
HR Duties
Scheduling
Hiring staff with all these skills along with the knowledge of the system technology is very hard. Commit the resources to maximize the resources invested in the systems. Even the best technology fails without proper resources available to the users: time, training, practice and on-going support. Systems change, usage is modified and people make mistakes.
Live the Brand & Drive the Experience
With a strong system in place focus can shift to building a team that focuses on the customer. The goal of a great system is automate and minimize the labor for mundane or less important work, so the skilled staff can focus on the most important work. In a c-store that work is the customer experience. "As the management experts at Bain and Company point out – a 5% boost in customer retention increases overall profits by 25%." according to Nick Triantafellou the Director of Marketing & Merchandising at Weigel'. Making the customer's experience wonderful drives loyalty and in turn will increase sales and profits. Nick explains "Customer experience is the core concept address to maximize customer c-store relationships. The purpose of the company defines how to deliver services to every customer that comes into our convenience store. It is the most important marketing goal there is."
It takes skill, resources and time to train a team to perform basic customer service. There are numerous jobs. Delivering a memorable experience goes beyond great service. It is the ability to act rather than react to customers, to provide a feeling they love rather than make a quick transaction. Getting to the level of great customer perception involves every staff member, a good location, the desired products and service provided as the customer wants. Such delivery means staff that know what they are doing, enjoy where they work and are proud of the location and goods they provide. They need to feel trusted and cared about to deliver such service to the customer. Having such staff in that mindset requires good management and leadership in the store.
Create Growth
The business must generate results and fund the operations. Higher sales and profits are essential to having a great company. The system must result in a source of managers that are able to step into the roles needed for the desired growth. With all the benefits of a consistent brand, great loyalty and high retention,  there will be an increase in sales. Of course, external factors will impact sales. The point of the system is to control what can be controlled and to understand the factors that are not controllable. Understanding what is not controllable, will identify new or existing controllable things.
The system helps to understand and adapt to the situation at hand. Utilize strengths and minimize weaknesses. There are always opportunities to serve. Knowing the true position within a market – how your compare to others and what creates your customer loyalty – makes it simpler to operate your stores.
With the clarity of your brand and how that impacts your customers, it is much easier for staff to focus on the things that really matter. Having a clear job with great customer feedback, makes staff proud and reinforces the system with the positive feedback.
The Balance Scorecard
Robert S Kaplan and David P. Norton argue that a balanced scorecard provides better guidance for long term success. This concept is described specifically for c-store in the article –The 4 Components of a Balanced C-Store Performance Scorecard. Wikipedia states that there are 4 parts to having a balanced scorecard: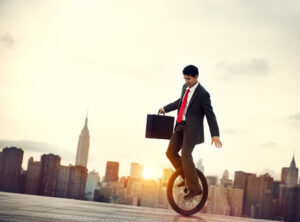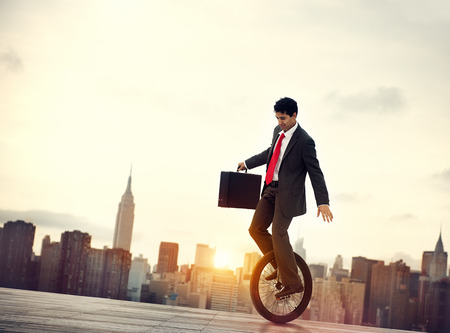 1. Financial
2. Customer Perception
3. Internal Business Processes
4. Learning and Growth
Build a System to Develop C-Store Managers is a key to on-going growth to increase sales.
Having managers available that understand and have proven they can establish the culture makes adding new stores so much easier. A good system will not only keep the operations on track, but will also include learning and growth. Specifically, train managers and staff to 'live the culture' and drive growth in the staff, in the store an for the community.
Accountability Sustains the Culture, Brand and Retention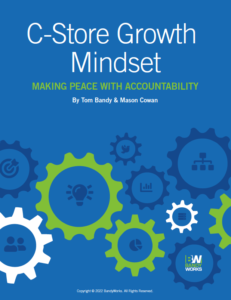 There are five principles that the most successful c-store operators use to apply accountability to get better results.  Thriving organizations practice accountability. Optimized accountability systems use all  five principles. Together, the five principles make work simpler. Over the course of a decade studying accountability, we have found that many owners and managers have expressed frustration, doubts, or uncertainty on the subject. As documented in the book, C-Store Growth Mindset Making Peace with Accountability, the five principles are:
Vision & Mission

People & Teamwork

Process

Goals & KPI's

Tracking  Follow-up
Applying the principles of accountability as you create and implement the operational system ensures you are able to live the brand more easily. Knowing the purpose, hiring and onboarding the right staff with the processes established to achieve the desired goals makes the follow up a positive team activity. The system reduces unknowns, identifies priorities needed for any course corrections and reinforces successful behavior. Removing small defects and reward the desired behavior makes management and work fun and reliable.
It takes a strong system to build a high growth and valuable c-store chain. The process is never done and there is not set timeline for growth. Strong companies move forward and make things better. They invest in their assets, systems and people. The irony of great technology and systems is that they can help to build strong relationships and more personal interactions.
More Resources for a Building a Strong System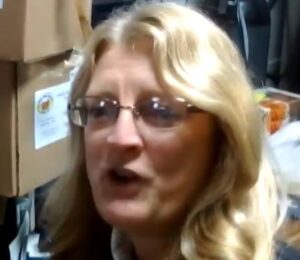 Using scorecards to pinpoint trouble shooting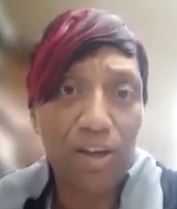 Kendra discusses the value of sharing management issues