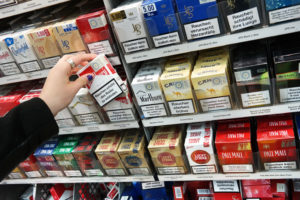 November 18, 2018
The key to increasing cigarette sales is multi-pack discounts. Many vendors provide scan data rebates, but getting your money for scan data is not enough to increase your sales. C-Stores provide a discount to your customers,  and therefore cigarette sales increase.
Up-selling is the Key to Increase Cigarette Sales with Multi-Pack Discounts
Lowering the price increases sales. The multi-pack discounts are funded by the manufacturer. These discounts are above and beyond the existing buy-down and other contractual programs you have now. You must make a separate scan date agreement with each of your cigarette representatives for Altria and RJR
You ensure your margins by processing the information correctly. Many scan data vendors provide the scan data processing at a low price. If they do not process the multi-pack and loyalty payments, however, the funding for the discounts is paid by the retailer. This means, only when your scan data multi-pack discounts are submitted correctly are you sure to get all your money. Hence, it is critical to ensure your processor is able to collect all the data. Furthermore, they must provide it to the processors so that the retailer receives the discount payments. Finally, it is a lot of money, make sure you have a partner that will work with you and your manufacturer to get all that you are promised.
Cigarette Scan Data Processing Keys to Success
Scan data includes all the multi-pack information for both the Altria and RJR program
The vendor applies your specific multi-pack discounts based on your POS processing
Your manufacturer has included you in the multi-pack program
Your processor knows how to resolve certification delays or data problems.
Of course, you can sell more if you discount the price. Naturally, you can up-sell more easily when the customer gets a great value. With great pricing, they will visit more. The program works, make sure you have a partner that will help fully.
A cigarette rep that knows the program helps you get started. Make sure your processor understands the details of all the different rebate issues. They should have a  track record of getting full payments for their clients (i.e., carton, multi-pack and loyalty). Of course, it helps to be able to contact a knowledgeable person who will help you get it done. Sometimes the program and technology can be a bit frustrating in the beginning. Find the right partner and make it happen. These are the reasons that many argue that the key to increasing cigarette sales is multi-pack discounts. They drive more sales and save your customers a lot of money.
Cigarette Scan Data Has Three Parts
Basic file submission for up to 10 cents a carton
Multi-pack certification
Loyalty processing certification.
C-Store Scan Data – Related links
If you enjoyed this blog, you can find more information in these links:
C-Store Cigarette Scan Data Software Increases Tobacco Sales
Increase Cigarette Sales 10% and more!
C-Store Cigarette Scan Data Software – Product Information.