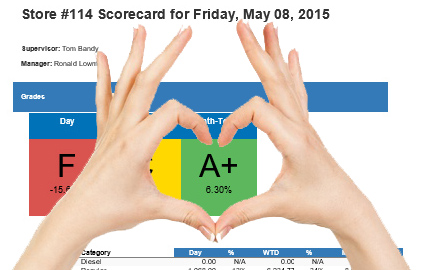 February 25, 2016
One of the surprising things about the motivational impact of numbers. Share results shows staff that you care about performance. Think about it. We know business at some fundamental level has to produce a revenue. Obviously, sales generates the money to run operations. the staff control the output of a store. If you are not measuring the impact of your key staff, how do you really know how well they are doing? C-store performance is not about feelings. This is not your mother's love.
Comparison Provide Insight
My friend Rose recently changed companies. She started selling real estate later in her career. She worked hard for years. Her company did provide feedback. Other companies notices her sales. Naturally, they wanted a high performer. They share her numbers compared to the others in the company. They showed she was in the top level of achievers. The feedback was new and created extra confidence. Rose was impressed on two fronts. First, the manager knew how she was doing. She gave tips on additional ways to improve. Second, someone took the time to care enough to recognize the results.
Love and Appreciation
We know it is great to get the love from our mom that is unconditional. No one wants to lose that. We also know we really like it when we get praise. When it comes from respected work peers it is even better. Few things reward better than objective facts. Sugar coated intentions do not have much impact.
It Matters
Rose says her average transaction size is going up. Even better, she just finished her best year ever. Of course, not everyone is a top performer. Everyone can be their best, however. Recognition and rewards help everyone achieve their best. Share the love with some good analytics. While this is not your mother's love, she would approve.