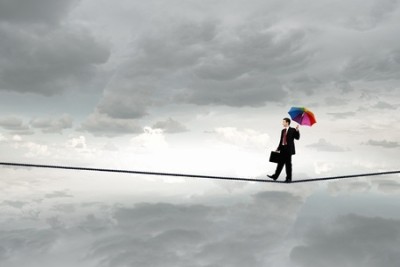 October 21, 2015
The balancing act of control can be elusive. One of my favorite articles read this year was Lori Deshene's "50 Things You Can Control Right Now". It was a rare gem I found on the Tiny Buddha Website. While there is much in the world out of our control, there are many things we can do to counter the lack of control we have otherwise. On the flip side of this, Anthony of the MixinFitUp.com site wrote "What Happens To You When You Stop Trying To Control These 6 Things "  For those that are curious:
Six things to stop trying to control
Other people's opinions
What others say about you
Time
Death
Traffic
The Past
Both articles promise a happier, more productive life if you follow their advice and, when you read them, you can't help but agree with both. The moral to this is that it quickly becomes obvious that control is a balancing act. This is why the Management job is such a complicated one. While you are responsible for the results your department has, you are relying on others to get you to your goals. While you may not be able to control what your employees and co workers do, you can control who those employees are?  If one is not doing what is expected, you can let them go, and if you feel your co-workers are not meeting your needs, you can go work elsewhere.   When it comes right down to things, there if very little one really can control other than their behavior and actions.
C-Store Control
Let's say the price of fuel may go up causing less traffic to come into your c-stores.  You can grumble and use it as an excuse for poor sales. Alternatively, you may look for ways to increase the average amount of sale of the traffic you are getting. Take action to control what you can. For example, run specials, or promote reward programs. Since you have fewer customer, treats the ones you have better. Consider their long term value.
Vendors have different programs and products. They have many programs and products. If you do not like their pricing, you have options. Consider seeking other brands. Negotiate better service or price.  However,  if it's a brand you must have, then perhaps you can negotiate a longer term contract to lower the price.
Staff performance is always important. For example, employee always showing up late, or not even showing at all. You can't go to their house to pick them up each day, but you can create accountability. Setting rules and following up controllable.  Replacing staff is expensive, but getting the job done is required.
Control Our Work
These differences are subtle, but one is based on your needs, the other approaches are mutually beneficial.  By putting consideration to all sides of a situation, you can quickly gain control of a situation or at least your part in it.  It is a balance of your needs and that of the opposing force making you feel you are losing the control that will help you recapture it. You will find, as you manage, if you look for mutual benefit when trying resolve situations spinning out of control, you will get much better results.   There are things you should try to control and things you should accept that you cannot. The balancing act of deciding which is which is a skill well honed by opting for mutual benefit.