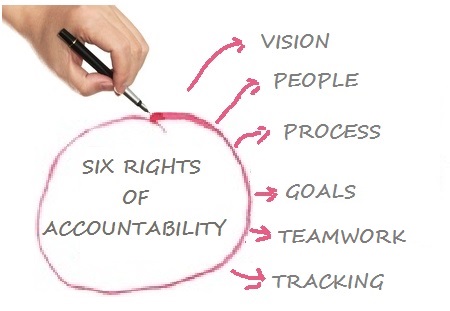 December 29, 2014
The 6 Rights of Accountability make it easy and effective to get the results you want. Even better, teams respond well and enjoy their work. Great accountability occurs when a company is able to get it right.
1. Vision / Mission – Visions do not change very often, but the mission may change more often to fit the vision. Of course for very successful businesses the vision may evolve – think of The Marlin company that started out making guns, shifted to safety and now delivers world class corporate communications
2. People – People grow and so do companies. Based on the other factors the fit for those people may change as well.
3. Process – Long-term success demands process. The challenge with process is to maintain the leadership quality and/or innovation that lead to the past success when create structure via the process.
4. Goals / KPI's – When a company has the right vision, team and process, success is soon to follow. This success can be many things but probably means increased sales, higher quality or higher profits. Setting the right goal and then finding true leading indicators is a powerful tool to manage the activities needed to achieve the defined goal(s).
5. Teamwork – Accountability can be accomplished individually, but it is very limited. Great accountability is typically associated with a team. Trust, respect, cooperation and frank communication are characteristics that make accountability work.
6. Tracking – Great tracking means accurate information is derived through the standard operations to maximize efficiency and effectiveness.
Life cycle of accountability
The 6 rights of accountability just make sense. The funny thing is that fixing one of the rights may change the answer to a different right. Think about entrepreneurs. They get things started but often are not the right people later. They may start without a lot of rules. The process is inspiration and hard work. With success, more process and structure may be right. Likewise, the wrong person without a clear process may be the right person once the right process in in place.
Related topics