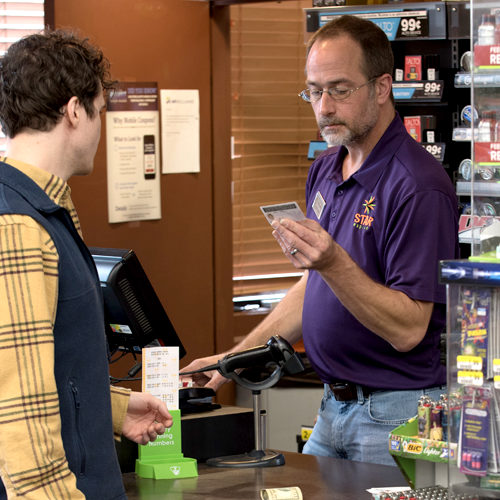 June 27, 2021
One of the critical jobs is to stay compliance with age verification in c-stores.
Age Verification Compliance Summary
| | |
| --- | --- |
| Situation | Establish a process for age restricted sales compliance |
| Operational Results | 100% monitoring of age restricted sales transactions |
| HR Results | Objective training and assessment tools |
| Technology | POS scan data, data analytics |
| Management Approach | Objective, exception-based accountability, and training |
Overview
The new  regulation and compliance laws for underage sales  are here. As such, retailers must find ways of selling responsibly. Obviously, they must also make it easy for regular customer to buy what they want. That is, no one wants to be the ID czar. For example, good cashiers do not want to sell alcohol or tobacco to underage customers. Cleary, managers must balance the risk of cashiers making age judgments throughout the day rather than the stricter approach of forcing a 100% ID check policy. Full compliance means regular, well known customers may become annoyed. Hence, the challenge is too much verification and frustrated customers or too little verification and risk failure. To make things harder, some store managers argue strict ID policies take away from their marketing appeal. They are the local/community store where everyone feels at home.
What can a retailer do to satisfy customers, employees, and regulators?
The Compliance Approach – Establish Standards & Identify Staff Risks
Navigating an underage drug crisis requires balance. Managers address social-responsibility along with ID regulations. As expected, new technologies that apply AI and data-driven oversight provide new options. That is, data analytics combined with artificial intelligence track endless purchases. Thus,  every store is monitored fully. That means all activity can be review. It is easier to train staff and correct mistakes using specific examples. Hence, managers can apply the right balance of oversight with cashier decision-making.
As a result of these challenges, BandyWorks developed a method to identify stores and cashiers at higher risk of selling to underage customers. For example, the proprietary software identifies all age restricted transactions. It then generates an analysis based on specific compliance heuristics. As a result, standard behavior is established and risky events are presented. This enables a "heat map" to graphically show the store and cashier activity. Standard age verification performance across the company is  established and henceforth abnormal behavior becomes easy to identify.
Using this new tool, area and store managers receive a short list of stores and staff that need attention. It helps them stay in compliance in their c-stores. Next steps become clear as comparison data makes it easy to know who is taking short cuts, or who is skipping the ID process all together. This information can be instantly shared or delivered on a schedule to the manager in charge.
The Age Verification Analytical Process:
Lists cashiers with risky verifications
Documents actual results for regulators.
Tracks the verification method.
Counts fake birthday entries.
Establishes an age verification baseline.
Simplifies training.
Age-based Analytics Perspective
Comparing store details makes it clear which stores and cashiers need attention. As such, an area manager or regional director can find unusual stores or staff. Naturally, they  show a better way. The simple counts and lists  make questions easier and solves problems faster. In summary, managers stay in compliance with age verification in c-stores. in this manner, the process is simple to use. Best of all, engagement with cashiers is less stressful. In fact, it helps cashiers to know that you care age verification. Thus, they know you care.
Age Compliance Bottom Line
No one wants unneeded age checks. Of course, managers must find the balance.  It follows that a  consistent system using actual results provides the best way to avoid fines and loss of license. Obviously, it feels great to ensure only adults are buying.
Click here to request an analysis of Age Verification Compliance at your store