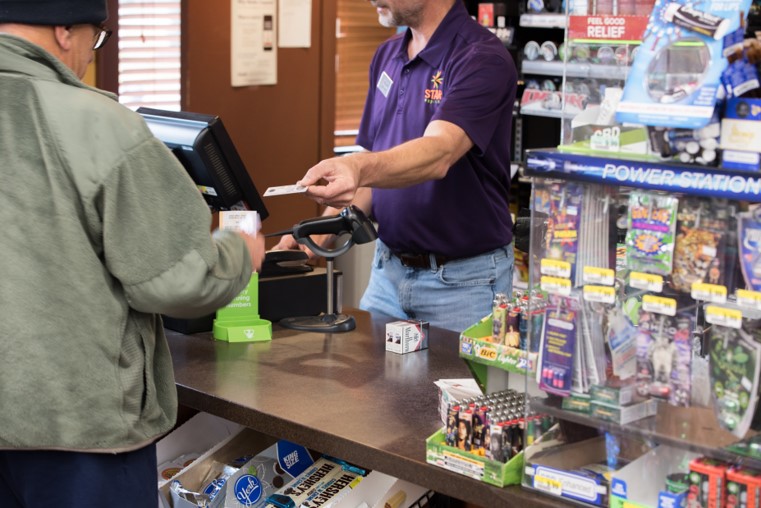 May 26, 2022
Future proof your c-store POS system with consideration of your growth plans. There are several stages of growth to consider. It takes time to choose, purchase and implement a POS system. Changing a system in the future can be very disruptive to your business in terms of store closures, staff training and integration with other systems. Having a POS system that will meet your convenience store needs in the future is an important factor for on-going operations.
Convenience Store Growth Stages
It is important to understand your current needs and determine how much you want to invest to plan for future needs. When making decisions for your convenience store management software, compatibility for integrations are essential.  With a little planning and technology review choosing the POS system to meet your current and expected needs can be achieved. 
Basic – Scan products with standard pricing, payment processing, scan data exports, with basic transaction events and activity logging.
Fuel and signage – Integrated fuel dispenser and sign updates
Remote management – Provide access to update pricing from centralized back office software management system.
Branding  & Customer Experience – Integrated loyalty, identity verification
Advanced retail analytics – staff retention, cashier, product managements, age verification, and staff development support.
C-Store Software System Growth Support
As you grow your convenience store business, convenience store management software provides key controls for operations. Adding stores and staff increase risks. These risks include pricing, procedures, product sets, inventory, payments, promotions and customer service levels. That is, the risks much be controlled while also maintaining necessary margins. The complexity of this balance increases with growth. Without adequate c-store software management systems, extra work is created, and worse, this manual work is error prone. Errors with inventory, pricing, promotions and tracking can lead to unprofitable sales and lost sales if the right products are not available.
The need for streamlined operations increases with the addition of both stores and staff. Without integrated systems that are straight-forward to use, too much time is required by key staff that need to spend time in the stores with customers and working with vendors to provide the right products and services.
Remote Management
The ability to manage convenience stores remotely leverages key staff and provides greater growth potential. Remote management helps even one store so that key staff can safely take time off and address issues without always having to be present. These remote capabilities include, changing fuel prices, monitoring cameras, analyzing sales trends for weekly orders, and balance bank deposits. As stores are added, inevitably the time needed to visit on-site increases as stores have to be physically separated.
During times of extreme staff shortages, key managers are able to support multiple stores by using less experienced staff to address the basic supervisory jobs in the stores, but get remote support from the experience managers that can help with assessing problems, reviewing film, setting prices and providing safety to inexperienced staff that need confirmation before addressing difficult or unusual situations. New managers often need help to  handle fuel pump skimmers, unproductive staff, product orders, unruly customers or daily book reconciliations. Having visibility into the sales data, cameras and all the convenience store software allows multi-store managers to provide remote coaching and management support.
Branding  & Customer Experience
Keeping your customers happy and coming back to the store is a great way to grow your c-store sales. Loyalty and mobile apps support branding and customer experience. These systems will be a necessary part of your c-store technology systems. As such, loyalty and mobile application integration is a key to future proof your c-store POS system.
A customized experience requires integrated software for convenience stores. The retail data analytics need to be share with all software. For example, customer purchases,  and visits link rewards shopping patterns. Sharing data pinpoints incentives to visit, recognizes customers value.
Several high-end providers offer a bundled set of options. Specialized  software integrated with C-Store POS systems so that operators meet their needs with only those technologies that drive their growth.
Knowing how the system serves customers is important. In addition, staff must be able to manage and serve all the technologies that are part of the software systems. Plan the systems with the work flow and management as part of the c-store software selection process
Advanced Retail Analytics
C-store operations have great data for measuring both key performance indicators and growth goals. Therefore, integrated systems are able to sort through all the transactions, customers, staff and stores to show a clear picture of the key behaviors. Managers are able to see exactly the data they need to prioritize coaching, training, correction and rewards.
Mature c-store operations systems save management time and provide the objective data to address key areas of
Cashier upselling
Age verification
Shrink control
Product movement
Inventory management
Monetary control
Overtime compliance
Employee retention
Management development
C-store software systems save time, increase sales and provide control to protect investments. Consider your current needs and spend time to plan your future requirements. After that, define your approach to future proof your c-store software management systems.
Advanced Research
Accelerating – your operational efficiencies with technology
Books written for convenience store management
Convenience store technology standards by Conexxus