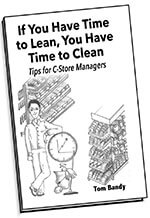 December 19, 2017
Tom Bandy has written a book about C-Store Tips – If You Have Time to Lean. These tips are collected in one book. Winning C-Store customers and keeping them is the result of smart work by everyone who works in a convenience store, from the team who keep the coolers humming to the owner. We've been posting videos for several weeks and this book is a collection of those tips, plus many more, from those people who make C-Stores work well. If You Have Time to Lean, You Have Time to Clean documents not only the tips from the best c-store operators as well as Store Performance – a system that the best operators use to make their stores run efficiently, achieve financial goals, make their customers happy, and retain key staff.
"I took the time to read your book and I want you to know that it was well worth it. It is enjoyable and I got a lot out of it. We will order additional copies for each of my managers. It will surely help them in training their new employees."
– John Plasky, Operations Manager
You can order the book from Amazon. We're also making special arrangements for associations to share the book with their members at special rates. If you are interested, contact us at info@bandyworks.com or call us 804.733.8844.