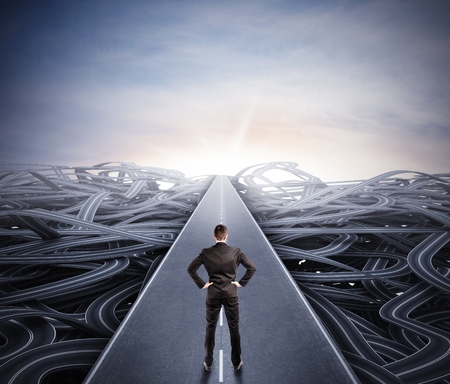 February 8, 2018
C-Store Operations – Keep It Simple – The Hard Work never ends. While simple is desirable,  it's not easy – it's just better. Simple means clarity. Clarity is worth the work required to find and follow the simple path. With simplicity comes focus that brings action.
C-Store Operations – Keep It Simple – The Hard Work in Motion
The path begins with your vision and mission. Your journey commences when you set goals to match your mission. Choose goals that matter and find ways to measure them. With such choices, you are on your way to productivity. Adding tasks and assignments to define the work to strive towards the goals establishes a process. While following a process will help you reach your goals, implementing a system will keep you there and allow you to adjust and maintain as you grow.
In the post, 'Business Wisdom Within', Alan Nicol summarizes that many proven management methodologies are founded upon simplicity. He states that Six Sigma uses the concept of reduced variation. Mr. Nicol likes how Lean Methodology drives to simplify both processes and management structure. His rule for simple: Effectively accomplish what is important with the fewest possible resources.
C-Store Operations – Signs of Excessive Complexity
Imprecise measures
Vague responsibility
Denial of problems
Excuse generation
Training headaches
Increased skill demands
Operational paralysis
C-Store Operations – Complexity happens with change
Complexity is not something that anyone desires. No one chooses to make things harder than needed. It just happens as things change. Companies grow, management is added and new technology arrives. The work process is not always updated to match these changes. Complexity is not the result of a plan but rather the unresolved left-overs of the old. In the real-world of on-going operations, considering every aspect of a change is often not possible. Employees must keep the company working and thereby redundant or inefficient work occurs and the complexity increases.
C-Store Operations – Redundancy is not always obvious
The outdated or modified work flow requires extra work to find, document and communicate the new way. Make a simple email, change to a daily report or even try a new training program. Training, communication, systems and procedures may not be synchronized and employees may be doing a combination of old and new assignments. For example, tracking and reporting are part of a system. Such information requires the employees to do work that is passed to others. When changes are made, these old tracking and reporting tools may no longer be needed. There are many kinds of work of which the producing employee may not be aware. When such work is no longer needed the person doing the work must be notified. This is one way simplification can make things better. The removal or re-allocation of work can increase production rates.
C-Store Operations – Keep It Simple – The Hard Work Steps
Start with mission, vision, and core values
Keep it simple – 10 measures max
Publish results and analysis
Score as many as needed to explain and call to action
Make communication part of the action plans
Find and remove work that is not necessary
Ensure feedback is given with the same rigor as the scoring
Make if Fair and Fun
Reward results – money, time and appreciation
C-Store Operations – Keep It Simple – The Hard Work- Related blogs and posts
You may also like a related blog regarding a balanced scorecard. When choosing your goals and measurements a balanced set can help. For a business school point of view, you may enjoy Simplicity-Minded Management by Ron Ashkenas in the Harvard Business Review.