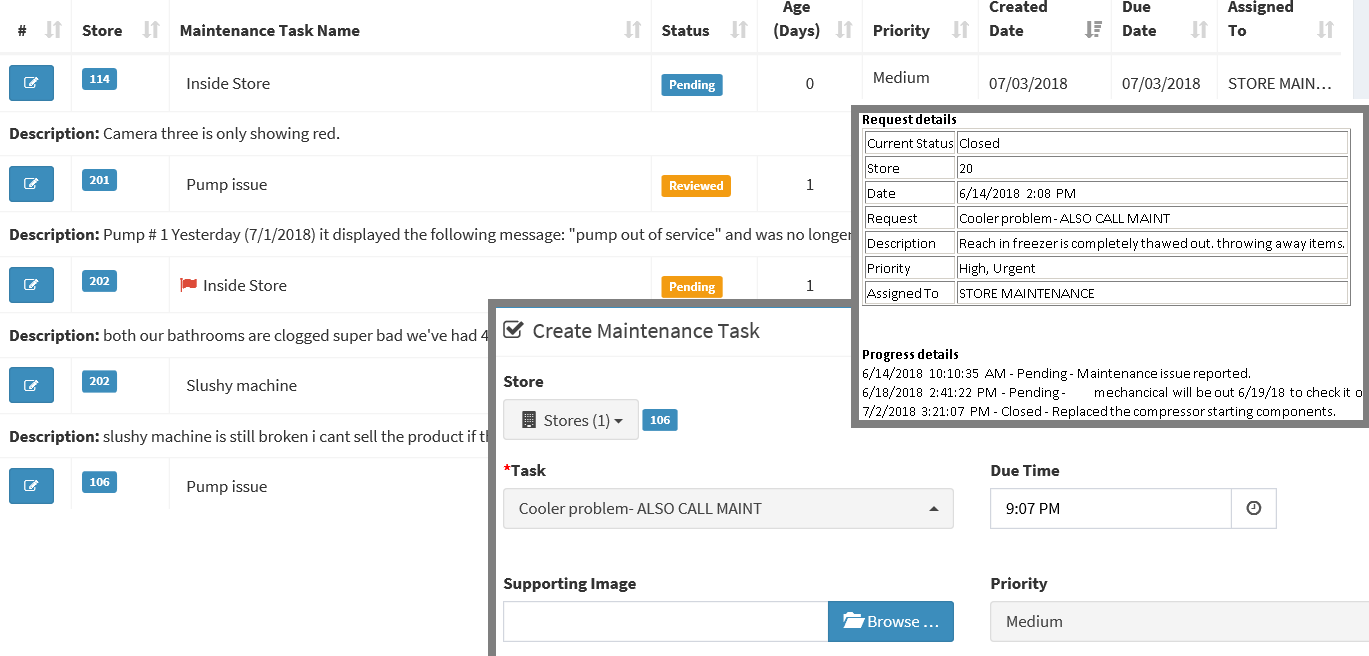 July 11, 2018
C-Store maintenance software saves time spent chasing maintenance assignments. No one wants to nag but the store manager is responsible to keep the store fully functional. If they do not know the status of maintenance work, then they must chase the work or risk having the problem left unfixed. Let's face it, your store managers just want the pumps pumping and the coolers cooling. They spend their time hiring and training so the customers keep coming back. No one wants to waste time chasing someone to be sure the pump will get fixed.
Facility Maintenance – Key Points
C-Store Managers Want to Know:
if the job is scheduled
if the problem has been fixed
The Maintenance Team Wants to Know:
if the store staff have done all the trouble shooting
if the maintenance team is needed or if a vendor must be called
Your facility management team is happy to help, but too often they waste their time driving to a site only to find a simple reset or existing fix procedure has been skipped. Likewise, the store staff do not want to burden their support team with work that can be done by themselves at the store. Having a system that tracks work and documents the requests helps to both save time chasing work and also helps to identify where misunderstood procedures or troubleshooting can be addressed. Having a document allows senior facility managers to identify areas where training can increase overall productivity of maintenance.
No software can eliminate all the normal errors that people will make, but a simple system can make store maintenance a lot easier to track. Having a C-store ticketing system organizes the work. It tracks what is overdue, who needs training and when real problems are being missed.
Ideally, your maintenance management KPIs are included with your operations systems so your operations knows when equipment is getting in the way of c-store results.
Our clients tell us c-store maintenance/facility management have a few key items. Together these maintenance features save time.
C-Store Maintenance Software – The Keys to Success
Logging an issue must be quick
Make the proper assignment
Include pictures
Integrate with your daily operations check list
Have a list and track by due date/assignments
Use mobile notifications
Track changes and communicate completion
Provide analysis information regarding vendor history
Identify overdue work
Pinpoint unreliable equipment
C-Store Operations – Related blogs and links
You may also like a related blog regarding C-Store operational simplicity.
For a business school point of view, you may enjoy Simplicity-Minded Management by Ron Ashkenas in the Harvard Business Review.
Click to learn more about : C-Store maintenance software.